Meet Dr. Elaine Chagnon
The most common sentence I hear in my office is, "I thought it would go away; it didn't, so here I am: Fix it."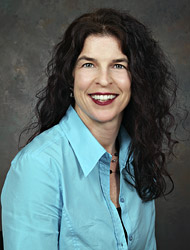 My first career is nursing and although I loved working with patients, I always felt a certain frustration/dissatisfaction with the traditional approach to ailments. I felt there was too much invasive unnecessary interventions, medication, very little hands-on and an underestimation of the healing capabilities of the body. At the time, my grandmother was seeing a chiropractor for neck and shoulder pain, and was getting great success. Intrigued, I met with her chiropractor and then several others and drowned them with questions.
I quickly noted that all of them still loved their careers after many years in practice and they all had the same passion for helping others using the least invasive methods possible and promoted the body's natural healing abilities. I knew chiropractic was the profession for me. I left my nursing position and moved from Montreal to Toronto to begin my professional training. Right from my first lecture I knew I had made the right decision and all these years later I feel only stronger about the benefits of a chiropractic lifestyle.
Education and Certifications
I graduated from McGill University with a Bachelor degree in Nursing. I was then accepted into the 4-year program at the Canadian Memorial Chiropractic College and in 1996 graduated as a Doctor of Chiropractic. Additionally, I am fully certified in all modules in Active Release Technique®, as well as Cranial Adjustment Turner Style and have found these to be an invaluable tool in providing care to my clients.
Improve the Quality of your Life
From newborns to centenarians, there are many different paths that will lead a person to my office; it may be to resolve an acute and painful condition, to optimize overall health, improve a golf swing or it may be to find an answer to a health problem that other physicians couldn't.
Regardless of the path that leads a person here I follow the same approach; listen to the patient, provide a comprehensive and thorough exam, and perform all necessary tests. When I know I can help, I will provide a clear explanation and diagnosis of the problem including a realistic plan to reach the goals you have. When I know other professionals are needed or the problem isn't going to be solved with chiropractic I will provide clear direction on who else would best be suited to help you with your concerns.
For me a true measure of my success is not only overcoming pain but seeing the improvement in patients quality of life, playing with the grandchildren, driving comfortably for long distances, or throwing the ball with their children.
Family Life
I grew up in Montreal in a close French Canadian family. I am blessed to still have both parents. I met my husband, Warren, at chiropractic college and we were married in 1995 on a beach in Australia. Together as partners and best friends we have four wonderful children who keep us young at heart and grey of hair.
For me a true measure of my success is not only overcoming pain but seeing the improvement in your quality of life.
We all enjoy our time together raising llamas and growing grapes in our own vineyard. For my own physical and mental health I do regular yoga, both for the pure pleasure of keeping my inner child healthy, keeping me strong, flexible, sane and running. When I need to wind down I love to scrapbook my family photos and the times we've spent traveling.
I consider myself and my family to be very healthy and we cherish the health we have. While I also recognize that we are inundated by unhealthy elements daily and while bacteria and viruses may make us ill (germ theory) they must first be given the chance (terrain theory). As such we have chosen to focus our lifestyle on keeping our bodies and minds strong, we continue to eat well, exercise regularly and check/adjust our entire family. My husband and I enjoy our time with our children and try hard to live a balanced lifestyle.
Enough about me! This website is really about you and your health. Give our Perth office a call so we can help you improve your health and enjoy life as much as possible.

Dr. Elaine Chagnon | (613) 267-2951