Things Worth Knowing
Gain Knowledge We find Informative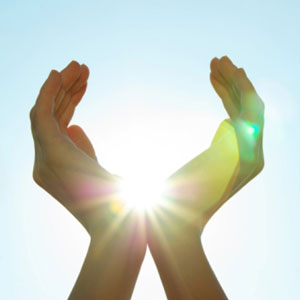 The chiropractic doctors at Perth Family Health Centre have a few great items they feel are Things Worth Knowing. Please click below to get more information about each topic. Feel free to contact our Perth chiropractic office to schedule your appointment. We have dedicated this portion of our website to increasing the opportunity for clients to gain knowledge on health related issues that we find relevant or informative. This page will be used to share information, websites and App's that are all available to the general public to help alleviate symptoms and live the best life you can!
Please feel free to check back regularly to see what information, idea's or topics we are adding! If you have a suggestion or topic of interest please let us know through our contact section of the site as well.
Please click as to see this fun site full of Brain Games, enjoy!
Please Click Here to read more information about Mattresses.


Fit-in 15

Fit in 15 is a good place to start if you have been inactive and are having trouble making time to fit-in some focused activity due to our busy schedules. Fifteen minutes a day can be the beginning of a habit that can grow and help you achieve your fitness goals. You'll feel good about fitting it in, and feeling good is an important factor in your overall health and wellness!
Canada's chiropractors are committed to helping Canadians be more physically active. Our Doctor's of Chiropractic (DC) can evaluate your strength and flexibility, and screen for anything that may limit your physical activities. Ask your chiropractor for an evaluation or visit the website to start the program on your own. Remember – fifteen minutes a day will start you on your way. If you happen to experience anything but good results from the program, please stop doing the exercises and discuss with your Chiropractor on your next appointment.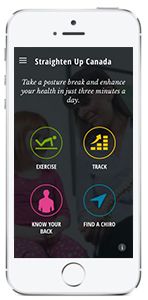 Straighten Up Canada
Canada's chiropractors have developed an app for that. Straighten Up Canada is a FREE, easy-to-perform posture program that you can use in just three minutes a day. It's the only free Canadian app specifically designed and completely dedicated to improving posture and spinal health in both adults and children.
How many hours a day do you spend sitting? Reading, using computers, driving, watching TV -all that sitting adds up, especially if you have poor posture. Did you know that lower back pain and other musculoskeletal (MSK) conditions account for one third of missed work in Canada?The Straighten Up Canada program can be practiced almost anywhere and is a great warm up, cool down, stand-alone routine or ergonomic break.


Parachute Canada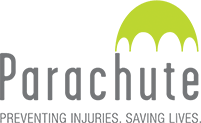 Parachute is a charity helping Canadians stop the clock on predictable and preventable injuries. The website has a wide array of information from workplace injury prevention to poison prevention, playground safety and the returning to play guidelines and baseline testing forms(SCAT3) for adults or children pre or post concussion injuries. Baseline results are a great tool to have on hand should you or your child ever be in an accident that results with a concussion diagnosis. Concussion awareness is on the forefront now that we know how much a concussion injury can affect the daily life of an individual and the long-term effects it can have on the brain itself now.
See more at: http://www.parachutecanada.org
Enough is enough
Preventable injuries kill more Canadian children than any single disease, and more youth than all other causes combined.
Each year in Canada, preventable injuries cause:
16,000 deaths
60,000 disabilities
3.5 million emergency room visits
a $27 billion economic burden to the Canadian economy
and worst of all, 1 child dies every 9 hours.
Prevention is about education, knowledge and empowerment. Parachute is leading, inspiring and mobilizing Canadians of all ages. We are creating a movement and building awareness and understanding of the issue of injury, to keep Canadians safe at home, on the road, at work, and at play.


Canadian Chiropractic Association

Did you know the Canadian Chiropractic Association is not just for DC's and health professionals, it has an interface for patients as well! Under the resources tab you can find links to different App's or websites that pertain to spinal health habits and you can also read papers that provide evidence based research to the practice.


Foundation Training

"Bad backs, bum knees, busy brains, lousy posture, and a number of other chronic ailments may very well be the true plague of these modern times. Life in the 21st Century has left many of us, regardless of our level of athleticism, with a body that is sadly and painfully imbalanced.
Enter Foundation Training, our innovative movement improvement program designed specifically to help you roll back the damage done and, more importantly, to help you become that pain-free and more powerful person we all aspire to be. We used to be in pain too, which is exactly why our team of instructors developed Foundation Training. Our approach was born out of a simple desire to be pain-free and the fundamental knowledge that our body wants to heal itself, we just have to remind it how sometimes.
Foundation Training is that reminder. It is a low cost/high reward exercise program that allows you to restore balance and start using your body in the way nature intended. Even better, it doesn't require a massive time commitment. You can do much of this stuff while brushing your teeth or washing the dishes.
Getting fit and feeling good doesn't need be a pretentious or complicated undertaking. Foundation Training strips away all the bells and whistles and relies on only you, your movement and your breathing. Through a series of postures, poses, and movements, Foundation Training activates your posterior muscle chain and teaches your body to take the burden of supporting the body out of your joints and put it where it belongs, in your muscles. As an added bonus, when your body starts to get more of what it needs and wants, your brain responds as well." This exert is from Dr.Eric Goodman the founder and creator of Foundation Training and has been taken from his website www.foundationtraining.com If you would like to follow his Youtube video's follow the link embedded in the logo and attempt to do your first Foundation Training 30 Day Founder and see if this new technique can help your ailments!

Perth Family Health Centre Things Worth Knowing | (613) 267-2951